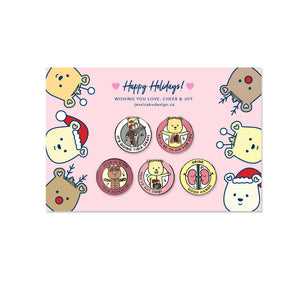 The Holiday Season is here!!! Exclusive Christmas Edition: Get the whole 5-piece, M Collection this Holiday Season! Perfect gifts for any health care professional or to add to your own pin collection!

Wear it on your id badge, jacket, bag or keep in your collection :)

5 Hard Enamel pins:
We'll be th-air for you
It's going tibia okay
Bear in mind your potential
Urine good hands
You've gut this!  
1" Diameter
Hard enamel
Gold plating
Pink Round Rubber Backing